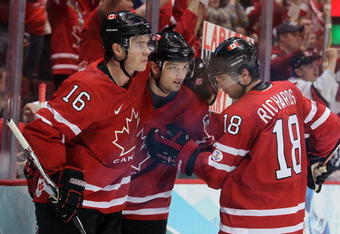 So, your team didn't make it into the Stanley Cup Finals. Maybe, a team you hate did and so you've lost any interest you would have had in watching to see who will win Lord Stanley's Cup. If you consider yourself a hockey fan then you should be ashamed. This year's contest promises to be a doozy with storylines galore and two teams that boast solid defense corps, high-powered offensive lines, plenty of superstars who aren't named Crosby or Ovechkin and rabble-rousing fanbases (trust me I was in Chicago for Game 4 of the conference finals and if the Hawks win the cup that town might just explode from cheer joy). So, I present to you 6 reasons why you should watch the 2010 Stanley Cup Finals:
1.
Jonathan Toews vs Mike Richards
: Two of the best all-around centres in the league going head to head...well maybe not very often but these two young captains, both members of Canada's gold medal winning men's Olympic 2010 hockey team (they even played on a line together-as evidenced by the photo above) are both exciting players who aren't afraid to go to the dirty places to make plays. Both have been playing exceptionally well this post season and it's going to be fun watching one of these youthful leaders steer their team to victory.
2. The Flyers haven't won a Cup since 1975. The Hawks haven't won a Cup since 1961. Someone's
drought ends
this June.
3.
The Hossa Curse
.
4. The very high probability to see
goals
like these:
5.
A great match-up
. The Flyers may not be an Original 6 team but this is still a storied franchise. The Blackhawks, well, what can one say about the team that has "the best looking jersey in professional sports" that hasn't been said before. Both teams are passionate, deep and filled with players that you love, hate or love-to-hate. Fans can expect a hard fought series with plenty of heroics, turning points and, of course, chirping. While everyone is wondering about the Pronger/Byfuglien meeting infront of the net I'm more interested in what Toews and Kane will do once Philly's big, 30-minute-a-game-man is otherwise occupied. Will one young team loose its cool? Can detested players such as Hossa or Carcillo overcome their bad reputations to win it all? Will Jeff Carter brake one or both of his feet, again? Which team will rise to the challenge to lift the best trophy in pro sports?
6.
Both teams are located in strong hockey markets that happen also to be populous US cities. The NHL will be happy with the ratings and interest it creates south of the 49th parallel while Canadians can take solace in the fact that these two teams combined are made up of 34 Canadian players, 17 for each team. Just knowing that The Cup will be spending a lot of time in it's rightful country this summer, no matter who wins, should be enough for those of us North of the border to stop being bitter about the lack of a "Canadian" team-just pick a Canadian player and root for him.
It's a win-win
for both fans and the league.
my prediction: well you know what I think... but it bares repeating, hawks in six.